Unsurpassed Moisture Management
Built-In Vapor Barrier for 360° Protection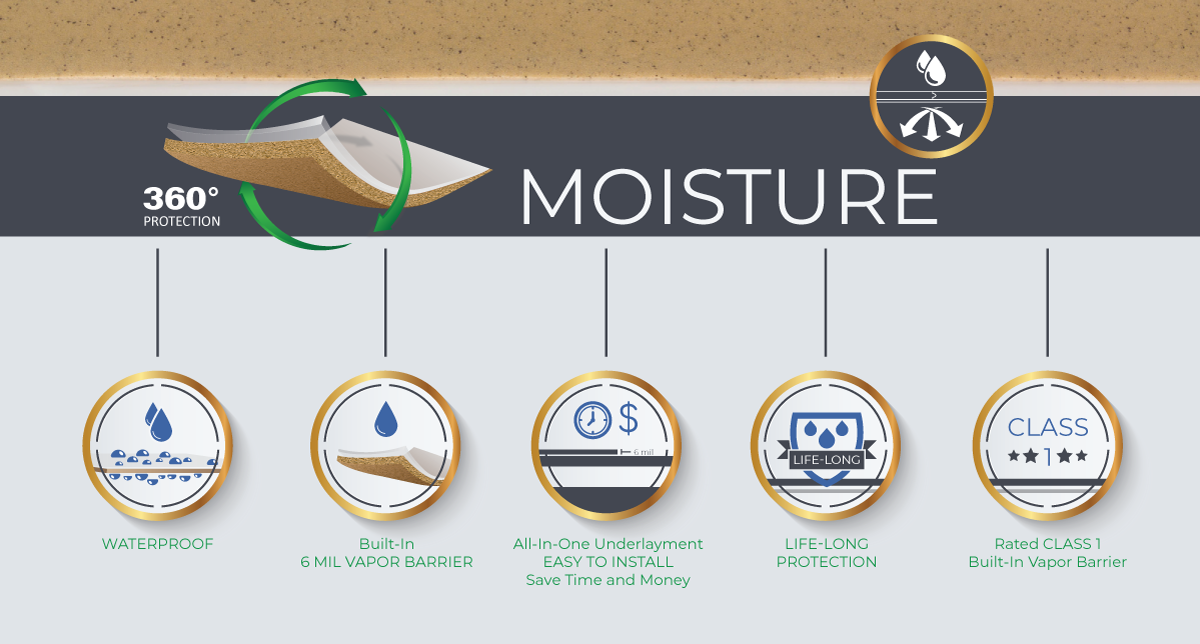 Eco Cork Foam is the ONLY underlayment with a built-in 6 mil moisture/vapor barrier. This Class 1 vapor barrier offers the highest level of moisture protection available for a life-long shield.
Cross-linked polyethylene foam and cork with a 6 mil vapor barrier provides a long-life moisture shield in our cork flooring underlayment. Flooring manufacturers often require the installation of a 6 mil vapor barrier to protect your flooring from moisture which can damage your investment. Not all underlayments are created equal. Having our vapor barrier laminated across the entire surface of the foam layer provides you with the following:
ECF's

moisture barrier underlayment provides

protection against moisture

which

will function and last throughout the life of your new floors. In addition, ECF is the best solution for installing flooring on concrete subfloors, including basement applications. Whether you need a quality laminate underlayment, hardwood flooring underlayment or underlayment for your vinyl plank flooring, ECF has you covered!

With ECF

,

there will be no potential for moisture accumulation between the vapor barrier and underlayment. With other underlayments, the application of a vapor barrier separate from the underlayment can create moisture between the layers and cause future problems.

ECF meets the standards as a Class 1 barrier under the International Building Code (IBC). ECF has a perm rating of 0.04 or 0.1 lbs. /1000 ft2/24 hours, providing 360° moisture protection, the highest level of protection.

ECF saves time and money. There is no need to purchase a separate

floor

vapor barrier and pay for installation of the vapor barrier

itself

. With ECF, all you need

is including in our quality

all-in-one

flooring underlayment.