Eco-Friendly Flooring Underlayment
Our Commitment – For Today's Lifestyles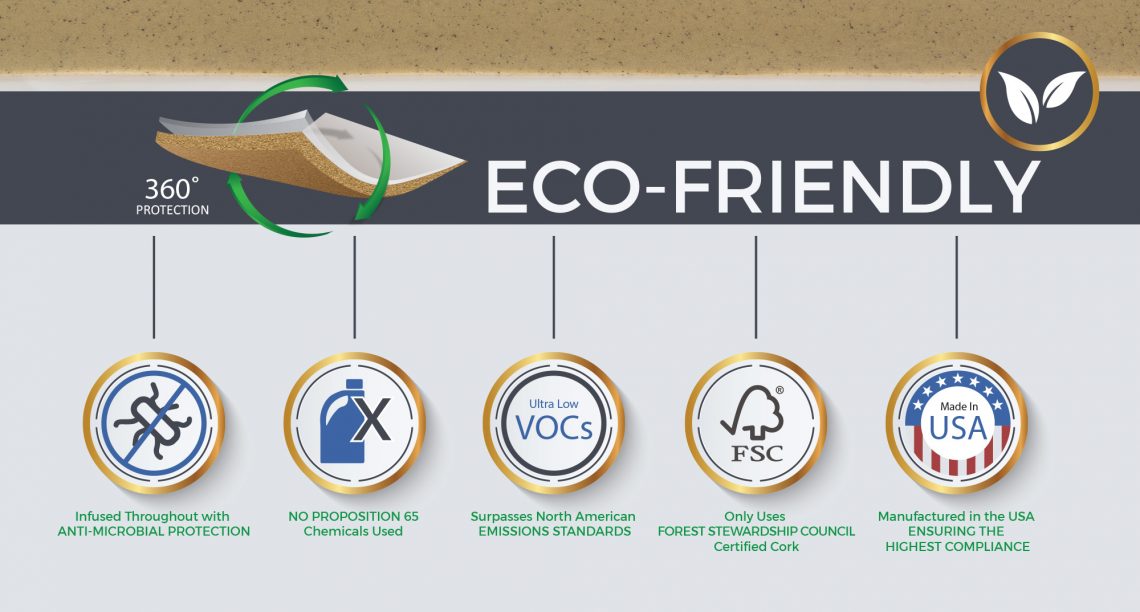 Our corporate commitment is to conduct ourselves responsibly with sustainable environmental policies. We've built our internal policies to reduce waste, use sustainable materials, and surpass emissions standards. We believe you should feel good about the flooring underlay materials used in your home and their environmental impact. Our flooring underlayment is both safe and responsible!
ECF is infused throughout with Ultra-Fresh Antimicrobial Protection, not just the top or bottom surface, to ensure a lifetime of protection.
No Proposition 65 Chemicals are used in manufacturing ECF.1
ECF has Ultra Low VOCs & Leach Emissions: ECF surpasses California's Section 01350, the most stringent Volatile Organic Compounds (VOCs) emissions standards in North America.

Only FSC

2

certified cork is used in the manufacturing of

our cork flooring underlayment

.

ECF is bio-degradable up to 85% in twelve months in a proper landfill environment

, reducing long-term waste.

Each roll of ECF is 75 square feet of material. The average room size is 12' x 12', or 144 square feet. With two rolls of

our engineered flooring underlay

(150 sq. ft.)

,

there is little to no waste. Most underlayments have 100 square feet per roll, thus generating additional waste.

ECF is manufactured in the USA, giving you peace of mind knowing we follow strict guidelines and often go above and beyond the EPA standards

with our quality flooring underlay

.
1 Proposition 65 requires the State of California to publish a list of chemicals known to cause cancer or birth defects or other reproductive harm. This list, which must be updated at least once a year, has grown to include approximately 800 chemicals since it was first published in 1987.
2 The Forest Stewardship Council (FSC) is an international, non-profit, multi-stakeholder organization, established in 1993 to promote responsible management of the world's forests.